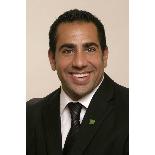 George Shamoun
Brampton, ON
Business Development Specialist TD Merchant Solutions
Registered Address
CA
Get Directions
Email or call to book an appointment
george.shamoun@td.com
TD Merchant Solutions
At TD Merchant Solutions, we offer more than a payment solution. We offer trusted advice and a full-service team with 24/7 phone support and on-site technical assistance1 within four hours of your call1, in all major centers across Canada.
Plus, as part of TD, we provide advice and products to support the full spectrum of your business banking needs – a one-stop shop for every stage of your business.
1On-site service available seven days a week (except Christmas Day) in most major centres if TD Merchant Solutions receives the telephone call for assistance by 4:00 p.m. on weekdays, or 2:00 p.m. on weekends and statutory holidays (all times local to Merchant).
Get to Know Me
With over 9 years of experience providing payments advice, I have the expertise to help you find the right payment solutions for your business. I am committed to working with you by taking the time to understand your business and advising you on payment solutions that will meet your needs - whether you need to accept payments in-person, online or both. I look forward to working with you and your business.
Areas Served:
Brampton
Bracebridge
Orillia
Thunder Bay
Huntsville
Sudbury
Sault Ste. Marie
Timmins
Elliot Lake
Kenora
You can ask me about
Point of Sale Solutions

TD Merchant Solutions offers a host of products to fit your payment needs.

Online Solutions

Create a seamless, simple and convenient online purchase experience for your customers, by integrating our suite of e-commerce solutions into your website or mobile app to start accepting payments.

Partnerships

Enhanced Merchant Solutions, Find the Perfect Fit.
About TD Merchant Solutions
We are committed to helping our clients meet their payment needs through a variety of services, products and advice that we tailor to each unique business. Get advice you can trust, technical support you can count on, and solutions that adapt as you grow.